In one's journey to practice mental health care, a counsellor that gets you and supports your journey is one we all hope for. When it comes to beginning that journey in therapy, we know that the process isn't as easy as we'd like for it to be.
While reaching out to a counsellor, we might constantly visit their website to check out their profile and credentials. We would try everything possible to gauge whether the counsellor has the skills we seek, as well as the sensitivity required towards our background or experiences.
Between the time we book an appointment, up until the actual hour of therapy, we know our minds start racing faster than they ever did before. With lingering thoughts like "How would I summarize my story in a single session?", "How do I make sure they (the therapist) are sensitive towards my background?", "How do I ensure I don't forget to talk about x moment in my session?". Thoughts like these (among many) could weigh over us, up until we don't experience our safe space.
For this very reason, we've released a resource today called "One Day To Therapy" to help you document the very thoughts you wish to bring up in your first few therapy sessions.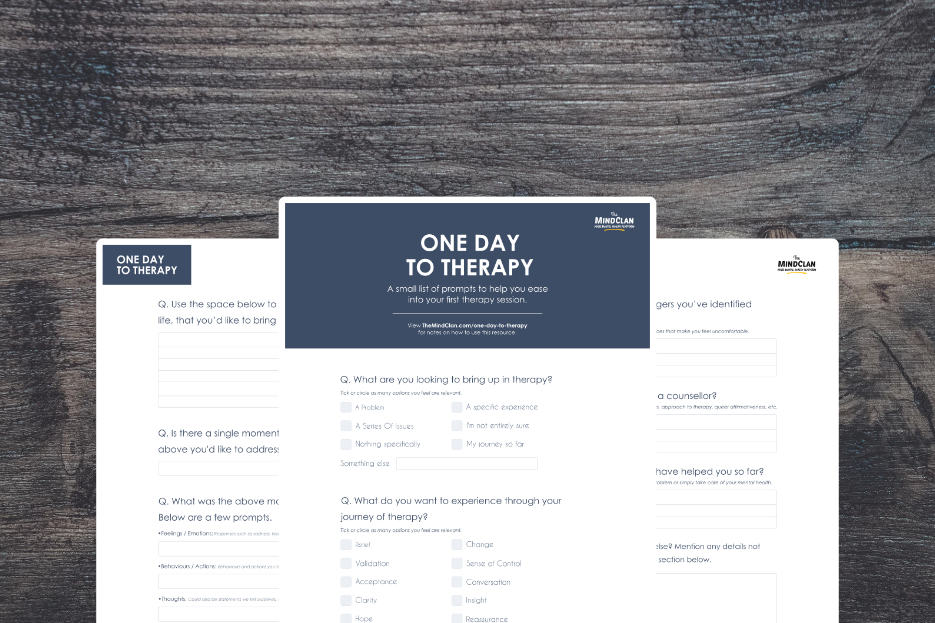 What is "One Day To Therapy?"
The intention of 'One Day to Therapy' is to act as a supportive resource for any individual who feels hesitant, scared, intimidated, confused, or lost about starting or restarting therapy. The idea is to take some time to answer or reflect on the questions in this resource before you visit your therapist.
One Day to Therapy has also been designed as a response to questions that we often hear from the community, such as:
What should I talk about in therapy?
What should I say in the first session?
How do I remember everything I have to say?
I know I need therapy, but why do I need it?
Is this resource for me?
This resource has been created for any individual who:
Is thinking about starting therapy but has not chosen a counsellor yet
Has chosen a counsellor, set an appointment, but hesitant about the first session
Has been in therapy in the past and wants to restart with the same or new counsellor
How do I use this resource?
The resource is designed to let you use it in any way that makes you feel the most comfortable. You could also find a few suggestions from us on how to use it in the link below.
View The Resource Guide
How can I get it?
Simple! Just click the link below, and let us know which e-mail ID you'd like for us to deliver the resource to.
Download The Resource
Therapy is a collaborative journey, free from intimidation, judgement and stigma. We hope this resource brings you a step closer to recognizing and experiencing a personal form of mental health care.
You got this.